Announcing TVOT SF 2024 and the 20th Annual Awards for Leadership: March 27th-28th
ITVT is pleased to announce that our next TV of Tomorrow Show event, TVOT SF 2024, will take place in San Francisco, March 27th and 28th. The show will include the presentation of the 20th Annual Awards for Leadership in Interactive and Multiplatform Television—nominations for which are now open: click here to view Awards categories; and click here to submit your nominations.
The show will once again take place at the General's Residence in Fort Mason, directly overlooking Alcatraz Island and the San Francisco Bay, and just a short distance from Fisherman's Wharf, Ghirardelli Square and many other famous San Francisco attractions, as well as multiple world-class hotels. Conveniently located, yet far removed from the hustle and bustle of downtown San Francisco, this venue offers a uniquely intimate, inspiring and pleasant space in which members of the TVOT community can catch up with old friends and associates, make new contacts, and pursue new business opportunities.
TVOT events are distinguished above all by the quality of the speakers they attract and by the groundbreaking discussions and new ideas that those speakers generate and inspire. As always, our upcoming San Francisco show will offer the chance not just to hear from, but to meet and interact with, the people who are shaping the future of the television and advertising industries. TVOT SF 2024 will bring together 150+ prominent speakers and panelists who are driving innovation in such areas as advanced advertising, audience measurement and research, attribution, audience-based buying, broadcast/local TV, ATSC 3.0/NEXTGEN TV, FAST, AVOD, SVOD, AI, interactive programming, shoppable TV and beyond, to share unique insider-insights into their work and the strategic thinking that guides it, and to explain and debate their respective visions for television's future.
TVOT offers sponsors a range of innovative and effective ways to drive awareness of their brand (see below for more information). We are pleased to announce that Driver Studios, Leap Media, Luminate, Qonsent, Centriply and Breakaway Communications have already signed on as sponsors.
We'll be announcing TVOT SF 2024's speakers and sessions in the coming weeks and months; however, to give you a sense of the unparalleled quality of TVOT's speaker line-up and editorial agenda, here are links to:
TICKETS NOW ON SALE!
Seating is limited, so we strongly encourage you to register as soon as possible. To purchase your tickets, click here.
From November 8th through November 30th, tickets will be priced at $1,075; from December 1st through January 5th, they will be priced at $1,175; and from January 6th through March 28th, they will be priced at $1,475.
Please note that we offer special group rates (two or more).
In addition, we offer special rates for industry analysts, PR professionals, bootstrappers, students and other qualified parties. For more information, contact Tracy Swedlow at tracyswedlow@gmail.com or 415-608-4766.
SPONSORSHIP OPPORTUNITIES
TVOT SF 2024 offer multiple sponsorship opportunities, each designed to ensure maximum marketing exposure for your company–at the event itself, in our ITVT newsletter and our Televisionation podcasts and our new TVOT CONNECT community, and on our Web sites and social media channels. As a sponsor, you have such options as:
becoming the Presenting Sponsor, a role that not only gives your company a unique degree of visibility at the show, but provides numerous other benefits in addition (inquire for details);
becoming a Leader of the Track, allowing your company to raise its profile with TVOT's audience of industry professionals by sponsoring a block of panels and keynotes in an area in which you are innovating (available topics include Audience Measurement, Attribution, Addressable Advertising, Local Broadcasting, ATSC 3.0/NEXTGEN TV, Streaming–or another topic that you prefer);
organizing a Hot Topic panel or keynote session, focused on an industry issue of importance to your company;
becoming a Session Sponsor for one of our existing panels or keynotes;
having your company's logo and branding featured prominently at the show;
supporting live-streaming, in order to bring TVOT SF 2023 to an international audience;
sponsoring breakfast, lunch, coffee/barista or snacks;
sponsoring the TVOT Cocktail Party on the lawn, overlooking Alcatraz and the San Francisco Bay;
and many other great sponsorship options.
Moreover, we are very open to working with your marketing department to devise creative, custom sponsorship packages that are tailored to your company's specific communications needs.
If you would like to find out more about sponsoring TVOT SF events, email us at tracyswedlow@gmail.com or call 415-608-4766.
SPEAKING OPPORTUNITIES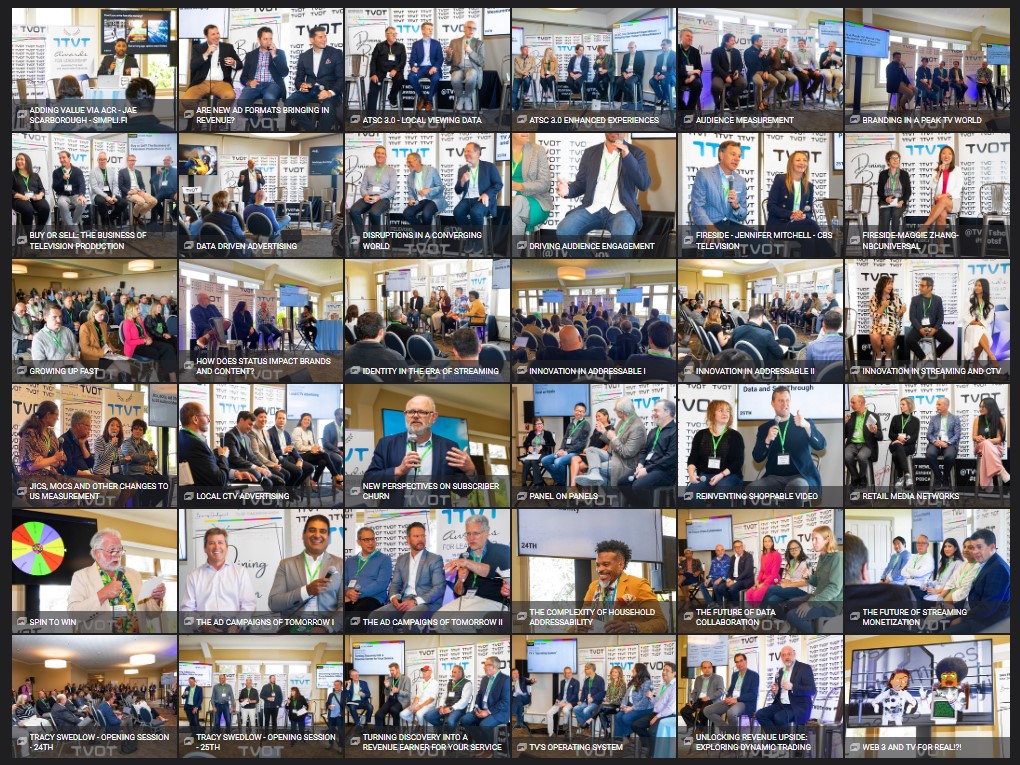 We are now accepting speaker/panelist proposals, and welcome your suggestions for topics you would like to see covered on the event's schedule. Uniquely among conferences, TVOT features an agenda that is developed through ongoing dialog with the industry. Please contact Tracy Swedlow, at tracyswedlow@gmail.com or 415-608-4766, to discuss your proposal. Also, please note that ITVT is not a pay-for-play organization and that speakers do not have to pay any fee to participate in our TVOT events.
TOPICS IN FOCUS
The ITVT editorial team develops the agenda for our TV of Tomorrow Show events through an extensive dialoguing process with the readership of the ITVT newsletter (which includes many key industry players), in order to ensure that each show covers all the issues that are currently of most pressing importance to the industry. As a result, we typically announce the agenda just a few weeks before each show. However, some of the issues that we expect to explore at TVOT SF 2024 include:
ATSC 3.0 (NEXTGEN TV), addressable (linear and non-linear), programmatic, data clean rooms, audience-based buying and selling, GRPs, AI/ML, Blockchain, attention metrics, retail media networks, ad-supported tiers, and more: Identifying and understanding the emerging technologies, monetization strategies, methodologies and media that will impact the television/video/advertising space going forward.
Reports from the field: How recent deployments of addressable TV, shoppable TV, DAI, creative versioning, programmatic advertising, audience-based buying and selling, ATSC 3.0/NEXTGEN TV, direct-to-consumer OTT S/AVOD and FAST offerings, interactive programming and advertising formats, artificial intelligence/machine learning (AI/ML), Blockchain, social TV, programming-discovery technology, measurement and analytics currencies and techniques, and other advanced-TV/video innovations are faring in the real world; and what the success or otherwise of these deployments tells us about the business models for the TV of tomorrow. Which advanced-TV platforms, technologies, services and content offerings are attracting audiences and generating revenues today, how and why?
The ongoing challenges involved in accurately measuring and understanding TV viewership on non-traditional platforms; and how advertising and audience measurement are being reinvented in order to take into account the growth of cross-platform viewing, time- and place-shifting, the demise of cookies, and other ongoing developments.
The future of panels.
Understanding emerging measurement currencies: how should we expect them to evolve going forward, and what are the implications of a multi-currency marketplace?
Understanding the potential of CTV for the advertising ecosystem—how is CTV enabling new forms of measurement, new kinds of data, and new advertising formats?
The growth of CTV in the local market.
The increasingly important role that data and data collaboration are playing in television advertising: the new forms of data that are being generated by interactive, connected and social TV/video, and how brands, agencies, networks and other stakeholders can work together to take advantage of these data to make campaigns more targeted, more accountable and thus more effective.
Understanding outcomes: new developments in advertising attribution.
The significance of new industry-wide initiatives in the advanced-advertising and audience-measurement spaces. How much progress has been made, for example, towards developing common measurement standards?
Accelerating the transition from siloed buys to audience-based buying: how to get buyers to better understand audience-based buying's benefits?
Following the money: Which services are viewers spending their money on and why?
Understanding the implications of the ongoing WGA and SAG-AFTRA strikes on such areas as content strategy, the future of AI in entertainment, and more.
Understanding the consequences (including the impact on programming strategies and content production) of the increasing importance of FAST and ad-supported tiers to the economics of streaming.
The emerging art of FAST curation: new tools and strategies for curating FAST channels to promote audience engagement and differentiation in the market
The new ATSC 3.0 (NEXTGEN TV) standard, and its potential to enable local broadcasters to generate new forms of data, offer new kinds of video and advertising services, and adopt new business models: will ATSC 3.0 put local broadcasters at the forefront of TV/video/advertising innovation?
New advanced-advertising and streaming initiatives from local broadcasters.
Diversity, Equity and Inclusion (DEI) in the advanced-TV space.
Understanding the art and science of brand safety.
The role that artificial intelligence (AI) will play in the evolution of TV/video advertising, content development, content discovery, and the viewing experience in general.
The emergence of "virtual MVPD's" and unbundled programming services that are seeking to take advantage of TV delivery over-the-top (OTT); how effective these services' business models are proving to date; and their implications for content providers, operators, marketers, advertisers, and other players.
The roles that subscription-based, advertising-based and hybrid business models will play respectively in the future of VOD.
How subscription-based OTT services can best address customer churn.
"Re-bundling" and other potential consequences of the increasing cost to the consumer of cord-cutting.
The role that in-car entertainment will play in the future of TV and video, as ridesharing and autonomous-vehicle technology become more widespread.
New developments in native advertising, branded content, influencer marketing and episodic marketing.
The potential of tcommerce/shoppable TV–whether on pay-TV systems, connected TV's, second-screen devices or social-media platforms–to change the economics of television and advertising.
The impact of new technologies (including deepfakes) and social media on the TV/video news business–and thereby on the body-politic at large.
The new programming formats and genres that are emerging natively on social-video and OTT platforms.
Understanding the respective roles now being played by X (Twitter), Facebook, Instagram, Twitch, TikTok, Snap, Rumble and other social-video companies in the television and advertising spaces–what are those companies' TV/video goals, how likely are they to achieve them, and what do other stakeholders need to do in order to survive and thrive alongside such powerful companies?
The implications of the incorporation of ACR and other "intelligent" technologies into connected TV's–and the increasing role of intelligence in the TV ecosystem in general: What kinds of opportunities does truly smart television make possible?
How MVPD's are revamping their platforms, services and business models in order to counter the threat posed by cord-cutting.
The changing nature of TV sports, including the implications of sports-free "skinny bundles" and of subscription-based sports programming services targeted at cord-cutters. What are the prospects for televised sports—and for regional sports networks (RSN's) in particular—in an increasingly OTT TV ecosystem?
The implications for the television industry of the US Supreme Court decision that invalidated the Professional and Amateur Sports Protection Act (PASPA), thus opening up new opportunities for sports betting.
The question of whether, and to what extent, "Peak TV" has now peaked.
How questions of content discovery, navigation and personalization have become central to television's future.
How to provide viewers with a simple, consistent and functional TV experience, across the multiple subscription-based and ad-supported, linear and on-demand, streaming and OTA services they are using.
The emergence of virtual, augmented and mixed reality as platforms for storytelling, advertising and marketing.
The future of TV design: How to ensure that usability and high-quality design become a core element of the advanced-TV user experience, and not just an afterthought; strategies for designing consistent, cross-screen and cross-platform interactive video experiences; making the business case for good design; the complex and evolving relationship between design, data and content discovery/navigation; and the impact of new technologies and emerging consumer behavior on TV user interface design.
The emergence of natural user interfaces, including gesture- and voice-controlled interfaces, interfaces powered by facial recognition, and more.
Understanding international advanced-TV markets: opportunities and risks in Europe, Asia, Africa, Latin America and beyond.
The impact of GDPR, CCPA, CPRA and other data-privacy initiatives on the television/advertising/data/audience-measurement industries.
The current state of investment in the interactive/advanced TV space. How are new investment trends, such as crowdfunding and accelerators, impacting the industry?
The impact of Special Purpose Acquisition Companies (SPACs) on the television business.
The latest tools for creating, delivering and testing interactive and multiplatform television.
The impact of video streaming on the Internet infrastructure; the significance of such issues as bandwidth caps and interconnection deals for the broadband video industry; and emerging standards and technologies for enabling high-quality streaming in low-bandwidth environments.
The increasingly importance of fan communities in the development, promotion and monetization of programming.
New developments in content distribution.
New developments in the TV Operating System (OS) space, and their impact on content providers and other stakeholders.
How to reconceptualize advertising campaigns so that they engage viewers whose attention is dispersed across multiple screens.
How to ensure that programming, advertising and the institutions responsible for them reflect and are responsive to the emerging viewing habits and increasing diversity of today's Millennial and Gen-Z audiences and cultural influencers.
The new advertising formats that are emerging in response to ongoing changes in how we watch television.
How to address the problem of CTV ad fraud.
The future of the Upfront model—are we seeing a fundamental and permanent shift in how television advertising is bought and sold?
How to identify, manage and monetize new social-video talent.
Recent and pending developments in interactive and advanced TV standards, and how these standards need to evolve going forward.
The ways in which the ongoing evolution of the TV/video industry is impacting the role of the showrunner.
The implications of the recent resurgence of interest in "choose-your-own-adventure" narratives and other forms of interactive TV programming.
OTHER ITVT/TVOT OFFERINGS!
In addition to our TVOT conferences, we produce custom, white-label in-person and virtual events for corporate clients, as well as Webinars and other video content. For more information, contact us at tracyswedlow@gmail.com.